Chiasmus
Definition: Chiasmus is a rhetorical device where one clause is repeated, but in a reverse order. Most of the time, the clause uses the same grammar and word choice, but just in a reversed way. However, sometimes the clause or concept can be slightly modified when reversed.
Example: "The instinct of a man is to pursue everything that flies from him, and to fly from all that pursues him." (Voltaire)
Visual: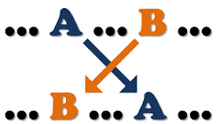 "How to Write Memorable Speech Lines (Chiasmus)." Six Minutes. N.p., n.d. Web. 04 Apr. 2017. <http://sixminutes.dlugan.com/chiasmus/>.