Assonance
Assonance takes place when two or more words close to one another repeat the same vowel sound but start with different consonant sounds, typically found in poetry and prose. It is also known as vowel rhyming.
"He gives his harness bells a shake
To ask if there is some mistake.
The only other sound's the sweep
Of easy wind and downy flake.
The woods are lovely, dar and deep.
But I have promises to keep,
And miles to go before I sleep
And miles to go before I sleep." - From Robert Frost's poem "Stopping by Woods on a Snowy Evening"
3.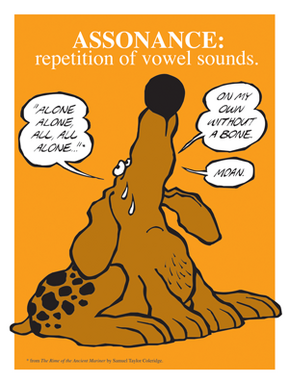 Ad blocker interference detected!
Wikia is a free-to-use site that makes money from advertising. We have a modified experience for viewers using ad blockers

Wikia is not accessible if you've made further modifications. Remove the custom ad blocker rule(s) and the page will load as expected.